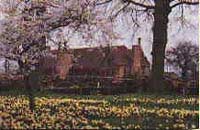 In Roman times, St. Albans was one of the most important cities in England. The city became known as a municipium in the first century AD. With a timeless history, many of St. Albansís ancient houses and structures still stand. Remains of the twelve-foot high city wall remain as well as the only Roman theatre in Great Britain. The theatre is 180 feet wide and can hold up to 1,600 people. Located next to the theatre is an ancient temple with a mosaic floor where the early Roman form of central heating is still intact.

St. Albans Abbey was built on the site that Alban, a British martyr, was beheaded after helping a priest escape persecution in the fourth century. The abbey was built in the eleventh century and has seen many alterations and restorations since then. In the thirteenth century, the nave of the abbey was lengthened and is currently nearly 300 feet long. Inside, collections of medieval paintings and brasses can be seen. The west end of the abbey features a scene of the martyrdom. The abbey offers a magnificent view from the top of the clock tower on High Street.

Many of the houses and the buildings in St. Albans date back to the fourteenth century. The Fighting Cocks Inn on Abbey Mill Lane, is one of the oldest inns in England. The building is now the Fleur de Lys Inn where King John of France was imprisoned after the battle of Poiters in 1356.