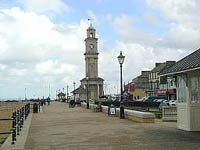 Canterbury is believed to be the place where English Christianity originated. In 597 AD, Augustine, a monk from Rome came here to convert the people. Canterbury Cathedral dominates the city and its history. The original Cathedral built by Augustine was destroyed and rebuilt again in the Eleventh century.

In 1170, acting on the foolish wishes of Henry II, four knights murdered Archbishop Thomas Becket inside the Cathedral. Becket's death turned Canterbury into a place of pilgrimage. A shrine was built in the cathedral and thousands of people came to visit his tomb. It was believed that the shrine had healing powers. Miracles were reported at the site until Henry VIII had the shrine destroyed in 1547.

Air raids during World War II destroyed a large area of Canterbury, but the main part of the Cathedral was unharmed. The medieval stained glass windows were removed at the beginning of the war as a precaution. The most interesting of the windows are the South Window with its 24 figures and the Miracle Window in the Trinity Chapel. The oldest part of the Cathedral is the 11th century crypt. The Cathedral is noted for its medieval tombs, including that of Henry IV and his wife Joan of Navarre. Also buried here is Edward the Black Prince. Next to his tomb, in a glass case, are his original helmet, shield, gauntlets and coat of arms, which are over 600 years old.

About one half of the medieval walls that encircle Canterbury are still standing. They were built in the 13th century on Roman foundations. Only one gate remains, the West Gate, located on St Peter's Street. It originally guarded the entrance of Canterbury from the direction of London. It is now a museum displaying the history of Canterbury. A beautiful view of the city can be seen from the top of the West Gate.

The Canterbury Tales Museum brings the famous people and events of Canterbury alive through the use of audio-visual aids. A slightly edited version of Chaucerís Canterbury Tales is recited and also a recreation of the murder of Archbishop Thomas Becket. The museum is located near the Cathedral off High Street.