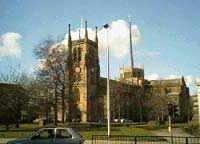 Blackburn, along with Darwen is mostly countryside. The surrounding area, including Witton County Park and Sunnyhurst Wood, offers plenty of open space and ample trails to allow you to relax and enjoy the outdoors. A view not to be missed is from Darwen Tower, which overlooks the West Pennine Moors.
Blackburn's Museum and Art Gallery have collections of fine art, a South Asian gallery and other traveling exhibits.
For a leisurely walk along the water, follow the towpath along the Leeds and Liverpool Canal, which will take you through the countryside. Or perhaps, see a fine Lancashire country house, Turton Tower, with its spread of nine acres of woodlands and gardens.
In the town center check out Lancashire's only Anglican Cathedral, with its lantern tower and Georgian styled nave.
If you like to shop, there is the extensive Blackburn Shopping Centre and a large indoor market with over 300 booths.