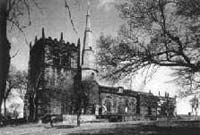 An ancient market and parish town, Ormskirk dates back to the time of the Vikings. A Viking leader named Orme had settled on the coast by the River Ribble in 840 and had built a kirk, or a church; thus the settlement became known as Orme's Kirk. The Parish of St. Peter and St. Paul features parts of Norman architecture with a mixture of other styles due to restorations throughout the centuries. This church is one of only three churches in England with both a tower and a steeple. First constructed in the fifteenth century, the steeple was rebuilt in 1790's after it had toppled over in 1731. The tower was added to the church in 1548 and was once a famous priory. The church continues to be open certain times for visitors and regularly for worship. Buried at the parish site are the various earls of the area including the Earl of Derby, who was best known for switching sides at the Battle of Bosworth in 1485 causing the defeat of Richard III.

A grant from Edward I in 1286 helped execute a royal market chapter allowing the monks of Burscough Priory to build a market for highly productive farmlands. In 1461, Edward IV enhanced the chapter by adding Saturday to the original Thursday market day. Annual fairs were also established and continue to be held to the present day. Specialty shops line the cobbled stone streets of Ormskirk. The irregular looking layout of Church Street is due to the residential and shop owners' building and rebuilding of their properties. Ormeskirk offers boath an indoor and outdoor market. Located at Moorgate, the indoor market has shops on medieval plots of land originally used for trade centers, while the outdoor market boasts 150 stalls.

The Cedar Farm Gallery near Mawdesley is a working farm where visitors can see goats, sheep, chickens, rabbits and other farm animals. The Gallery Craft Shop features contemporary ceramics, knitters, jewelers, and potters. A fashion shop called Etcetera specializes in authentic accessories and the newly added Anise, a shop selling imported exotic gifts is also located at the Cedar Farm Gallery. To satisfy a hungry visitor, the Roberts Tea Room serves delicious soups, sandwiches and baked goods.

Conveniently located just twelve miles northeast of Liverpool, Ormeswick can be reached by various means of transportation including by train on the Liverpool-Preston line of British Rail.