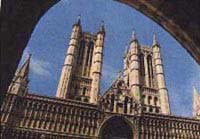 Located by the River Witham, Lincoln is one of the oldest cities in England many of its ancient Roman buildings still intact including Lincoln Cathedral and Lincoln Castle. The towers of Lincoln Cathedral are the second tallest in England and can be seen from up to 30 miles away. The Cathedral was built in 1072 in Roman design, but an earthquake in the twelfth century destroyed much of the cathedral leaving only the western front and towers standing. The Cathedral was rebuilt in Gothic style giving it an interesting mix of Norman and Gothic design. Two important historical documents are inside one of the chapels. One is a charter written by William of Normandy and the other is the best-preserved copy of the Magna Carta.
br> Lincoln Castle is a massive building that is still encircled by its original Norman walls. a Low tower known as Cobb Hall in the northeast corner of the was once a dungeon where prisoners were punished. Public executions were held on the roof of the tower. The castle is open daily for visitors.

Another popular attraction is the Museum of Lincolnshire Life. Located north of the city center and set in army barracks, the museum describes the social history of the area.