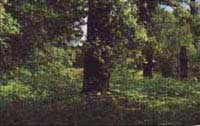 The home of the legendary Robin Hood, Nottingham is located near the River Trent. For centuries, Nottingham Castle has been the center of the city. Originally built in 1068 by William the Conqueror, the castle has been destroyed and rebuilt many times. When Richard the Lionhearted became king, he gave Nottingham castle to his brother John to command. It was around this time that the legend of Robin Hood and his merry men of Sherwood Forest came to be. Currently the castle serves as the city's museum and art gallery. Tours of the caves that lead into the castle rock can also be found at the castle.

The Industrial Revolution turned Nottingham into its modern state as an industrial city. In 1771, Arkwright created and set up his first spinning machine and powering his mill using a steam engine by 1790. Other industries soon followed, including tobacco, engineering and lace making.

Some interesting sites include the Trip to Jerusalem. This is an inn built in 1760 where local stories say that Crusaders once stopped for ale.