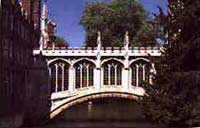 Resting on the banks of the River Cam for over two thousand years, the city of Cambridge is home to the prestigious University of Cambridge. When Oxford University students felt discontent with their school, they established the University of Cambridge nearly eight hundred years ago.

For some sightseeing enjoyment, Cambridge offers the Fitzwilliam Museum, which is considered as having one of the finest collections of paintings and rare books. To see magnificent stained glass windows, the King's College chapel boasts a quite impressive display of décor including a vaulting fan built completely out of stone. Following a style imported from sixteenth century Venice, the Bridge of Sighs is another site to visit.

A Beautiful college town, Cambridge allows visitors to truly experience life. Drink and socialize at the local pubs, or completely lose track of time while drifting in and out of the weeping willows overhanging the River Cam. During the festive season, hear the carolers' singing echo down the narrow lanes where Darwin and Newton once walked.