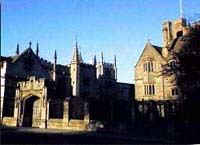 Beautiful Oxford offers a diverse amount of activities from sightseeing to college town activities. To learn about the history of Oxford, a visit to the "Oxford Story" is a must. The "Oxford Story" gives the visitor a foundation of information on famous people from Oxford as well as what to see and visit in the city. The Botanical Gardens is one of the most beautiful gardens of its kind in Britain. Inside the greenhouse visitors can wander from the dry conditions of a recreated desert or stroll through the lush rain forest complete with tropical fish where thousands of guppies inhabit the large pond.

Since Oxford city is not a very car friendly city, amazing walks can be experienced at Oxford. Starting from the Botanical Gardens on the outskirts of the city center and walking into the city center, one will pass many of the Colleges that make up Oxford University. The university's gardens are also wonderful and are among the most well maintained private gardens England has to offer.

One of the most popular cities in Britain, Oxford is a great base city when visiting England. With buses that run every ten or fifteen minutes, tourists have the opportunity to purchase a one-week bus pass giving them unlimited travel in Oxford for a minimum cost.