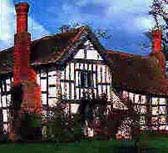 Surrounded almost entirely by the River Severn, Shrewsbury features the Ludlow Castle. Built on the only portion of land not covered by the river, the castle was constructed in 1083 and was meant to guard the town from Welsh raiders. Ludlow Castle is where Henry VIII died and is currently used to house the Shropshire Regimental Museum.

Shrewsbury was a wealthy medieval village where merchants became rich from the wool trade. Many of their grand houses can be found along High Street. The town's library is currently housed in the original seventeenth century Shrewsbury Public School where Charles Darwin had attended.

Many of the stones used to construct the buildings in Shrewsbury were taken from the ancient Roman town of Wroxeter. Five miles east of Shrewsbury, Wroxeter was one of the largest cities in England. Excavation of the area began in the late 19th century uncovering many interesting Roman remains. Market stalls and parts of buildings dating from the first century have been found there as well as an ancient bathhouse. The Wroxeter Museum displays many of the discovered remains.