City Listing
Leek in Staffordshire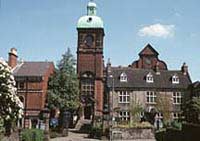 Leek is home to one of the most interesting places for fun and entertainment, the Alton Tower. With so many rides and spectacular firework shows in the theme park, it aims to please everyone in the family and definitely a place that will appeal to everyone in the family.
If you enjoy taking relaxing walks through the town, then Biddulph Grange Garden is the place for you to be. It is a beautiful Victorian garden containing a wide-variety of flowers and plants, and definitely a lovely setting to visit to relax from the day-to-day busy environment.
Right in the city, you can also find the Cheddleton Flint Mill, which gives tourists detailed information about the history and process of making pottery. It is of special interest to those individuals interested in industrial heritage.
And while you are there, donít forget to look for Leekís double sunset. The sunset appears to go behind a hill and reappear again, before setting against the horizon. Leekís double sunset is unique because it has been seen from a churchyard that is almost one thousand years old.