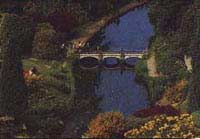 Known as the Potteries due to its fame in creating fine china and porcelain, the area of Staffordshire is actually made up of six towns- Burslem, Fenton, Hanley, Longton, Tunstall and Stoke-upon-Trent. In 1910, these towns merged to form Stoke-on-Trent.

Josiah Wedgwood created a line of simple and durable crockery in 1769. He built a workers' village, Etruria, and became famous due to his famous ceramic creations. Four museums were erected to describe the history of ceramic making at Stoke-on-Trent. The Etruria Industrial Museum displays the only remaining steam powered pottery mill. The City Museum and Art Gallery displays both historic and modern ceramics. The Gladstone Pottery Museum demonstrates different techniques of traditional pottery making. The fourth museum is in Hanley and exhibits finds made during excavations of the area. The pottery shown at Hanley was made by the Romans in the first century. Even earlier works have been found including an early Bronze Age (1700 B.C.) cup and beaker.

The famous writer Arnold Bennett was born in Stoke-on-Trent in 1867. Bennett mentioned many areas of this town in his novels. The house where he lived is now the Bennett Museum where many of the writer's works are on display.