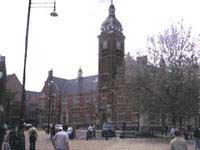 Swindon is a bustling city with plenty to do for everyone. The town of Swindon has a diverse history and is close to other historically significant locations. It is close to Uffington and the Ridgeway, Europe's oldest road. Swindon also once produced the greatest steam locomotives; there are two museums commemorating that era being the Steam-Museum of the Great Western Railway and the Railway Village Museum, which is an inside look at the old workers' quarters.
The surrounding countryside provides a scenic backdrop to the active town. Close to both Marlborough Downs and Savernake Forest, there are plenty of opportunities to enjoy the outdoors.
As for places to eat and drink or dance, Swindon abounds in pubs and clubs. You can make your way from Old Town in the north all the way to the bottom of the town, stopping at different clubs and bars on the way.