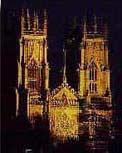 A well-preserved historical city, York is still encircled by its original thirteenth century walls. One of the cityís interesting medieval sights includes the York Minster, or Church, which was built in 1220 and houses the largest collection of medieval stained glass in Great Britain. Over 100 scenes can be found on the Great East Window alone. The stone screen, known as the Choir Screen, pictures all of the kings of England from William I to Henry VI. Much of the city can be seen from the top of the Central Tower of the York Minster; however, this ten-minute climb is not for the faint hearted

At Coppergate, the Jorvik Viking Centre brings back to life the sights and sounds of a Viking village. Also found at York is the largest railway museum, the National Railway Museum, an original steam locomotive depot. The museumís exhibits include antique as well as modern trains and memorabilia. Visitors can enjoy the Queen Victoriaís Royal Saloon.

During the summer months, some of the best street entertainers in England perform in the many courtyards throughout the city. Above the city, the York Minster towers and provides a guide for lost tourists.

At the Friar Wax Museum, see wax replicas of famous world leaders from the past and experience the camber of horrors. For a little more terror, the York Dungeon offers displays of medieval punishment including the torturing of Guy Fawkes.