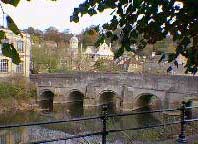 The charming town of Bradford-on-Avon takes its name from "broad ford" across the Avon. The crossing was improved with a bridge during the 13th century. There is a domed building on one side of the bridge, which used to be a chapel but was converted to a little prison.
Barton Farm Country Park has much to offer, from fishing and bird watching to boating. The wooded area lies along the Avon River, as well as the Kennet and Avon canals. Once used as a grange area for the Shaftsbury Abbey, the farm dates back to medieval times. Also on the farm is the Tithe Barn, with its slate roof, which was used to store the tithes from the area's tenants for the Abbey.
Bradford-on-Avon was centered on the textile industry for six centuries until the beginning of the 20th century. Historic old mills and weaver's cottages can still be seen along the river.
Situated on top of a hill overlooking Bradford-on-Avon and the surrounding area is St. Mary's Chapel. On a clear day, take a walk uphill to check out the wonderful view. One of the historically most amazing sights in Bradford-on-Avon is the Saxon church of St. Laurence. This eleventh century building is possibly on the site of a seventh century construction by St. Aldhelm. Forgotten as a church for many years, it was used as housing and a school, only rediscovered in the 1800's by a local vicar who prompted the restoration of the building. During which, beautiful carved angels were uncovered on the chancel arch. Another place of interest is the Holy Trinity Church.