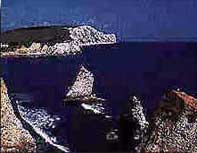 The Isle of Wight is a popular resort due to its many ports and sandy beaches. This small 23 mile long island contains many beautiful sights with he multi-colored sand cliffs of Alum Bay and the giant chalk cliffs called the Needles jutting out of the sea.

Other sights include Osbourne House built by Queen Victoria and Prince Albert in 1855. After Albert's death, Queen Victoria asked that the house not be changed, and since her death in 1901 and the house has not been altered.

Carisbrooke Castle is a medieval keep located in the center of the Isle of Wight. In 1647, Charles I was imprisoned here. A small museum is located in the castle's courtyard showing exhibits of the local history and of Charles I brief captivity.

Blackgang Chine is on the southern coast of the island. The dangerous rocks and cliffs on this coastline have caused the destruction of hundreds of ships. The Fantasy Theme Park is located in this small town. With fairy castles, replica dinosaurs, and jungle trails, both children and adults enjoy this amusement park..