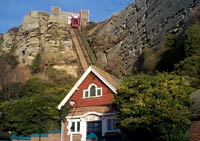 The small town of Hastings became well known in 1066 when William the Conqueror used this as the base to set out to fight the Battle of Hastings. The town is now primarily a fishing and resort area, but still honors its history in the form of museums and presentations that describe the battle of 1066.

First shown in 1966, the Hastings Embroidery tracks English history since the Battle of Hastings through needlework. Two hundred forty-three feet long and 3 feet high, was created by the Royal School of Needlework. The 81 pictures shown on it represent scenes from the Battle of Hastings and of other important historical events, such as the Black Plague, the London fire of 1666, the sailing of the Mayflower, King John signing the Magna Carta, the Battle of Britain, and many more.

On the top of Castle Hill the remains of Hastings Castle, built in 1067, stand. An audiovisual presentation is shown here that describes the Castle's history.

Other sites in Hasting include the Fisherman's Museum. Built in 1854 and originally a chapel, it was converted into the museum in 1956. Shown here are many pieces related to the fishing industry in Hastings, including a model of the Enterprise, the last fishing craft to be built here. Fishermen still use this building to baptize their children in.

The St Clements caves can be found inside the West Hill. These sandstone caves reach 60 feet below ground. In the past, smugglers utilized these caves to stash away their stolen goods. Tour guides are available for exploring the caves.