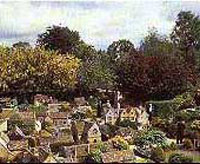 Bourton-on-the-Water is a cozy village located on the River Windrush. The village offers many picturesque scenes with its low bridges by the village green. Known for its unique architectural style, the distinct Cotswold cottages built with locally quarried stone, that has a warm yellow tone to it, set Bourton-on-the-Water apart from other quaint villages.
The pretty town of Bourton-on-the-Water has a long history. While most of the cottages date back three hundred years, some can be traced to Elizabethan times in the seventeenth century. This charming town was once a Roman military camp, and discoveries of iron bars indicate that it was an Iron Age camp that might have been occupied as early as 400 B.C.
Attractions include a model village, which is an amazing exact replica of the village only 1/9th the size. A large seven-acre woodland area is set aside as Birdland, with many rivers and garden ponds; many species of birds call it their home, including flamingoes, storks, and pelicans. There is also a large collection of penguins.