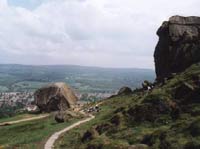 Located on the River Wharfe, the town of Ilkley is well known for its pure moorland spring water. With a spacious Victorian and Edwardian style, Ilkely served the nineteenth century demand for hydropathical cure by installing luxurious bathhouses. Visitors can see the first built bathhouse at White Wells where old donkey trails still remain.

The church in Ilkley boasts three magnificent Saxon crosses and a few vestiges of Roman structures as well as prehistoric sites. Near the church lies the ruins of a Roman fort, and just southeast of the town a Bronze Age Swastika Stone can be found. Carved on a flat rock and symbolizing eternity, this ancient relic can be reached by taking a moorland path above the Heber's Ghyll, a wooded narrow valley with steep paths.

Ilkley's colorful gardens has one top awards. Blooming all year round under to the care of the "Ilkley in Bloom" committee, these gardens beautify the town incredibly. Many private gardens are open to the public including the Netherwood, Highfield, and Beacon Hill houses. During mid-May the town holds an annual flower and vegetable show where townspeople and visitors alike can compete for over sixty prizes.

The Manor House Gallery and Museum on Castle Yard is an Elizabethan mansion constructed on the site of a Roman fort. Here visitors can immerse themselves in the local history through interesting displays. For a more active pastime, rock climbing is also available at Ilkley. Rated as one of the top English rock climbing centers with its popular Cow and Calf rocks. Looming above the town, the rock formations offer various climbing experiences for beginners to experts.