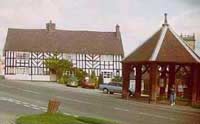 A quaint village midway between Uttoxeter and Rugeley, Abbots Bromley at first sight appears to be a humdrum little town in Central England. In 1851, William White described Abbots Bromley as "a decayed market town, consisting of one long street of irregularly built houses," but today, the village emanates with history and tradition. Large old buildings and a few shops line the main street on which the famous town custom of the Horn Dance takes place annually on the Monday following the first Sunday after the fourth of September.

Derived from Stone Age magical ceremonies, the Horn Dance celebrates the hunting, haverst tide, and fertility. Originally Pagan in nature, this yearly ritual has adopted Christian attributes and meaning throughout the centuries and is sponsored by St. Nicholas, a Catholic church in the center of the town. The Horn Dance commences in the church at dawn and finishes in the afternoon at the center of town where Robin Hood, Maid Marion, and various other characters perform among the people. The height of the ceremony entails six Deer-Men, three in white while the others are in black, who engage in a symbolic fight representing death and rebirth, and light and darkness. The Deer-Men wear real reindeer antlers weighing 25.5 pounds all day as they complete a twenty mile long circuit around the town.

The village of Abbots Bromley is an hour away from the Birmingham International, East Midlands, and Manchester Airports and has five regular buses per week to neighboring towns including Uttoxeter, Rugely, Burton-on-Trent, and Birmingham.