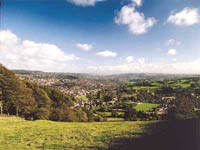 Containing some of the most beautiful countryside in England, Derbyshire is located in central England about 150 miles north of London. Derbyshire's pristine scenery draws many visitors searching for outdoor excitement and adventure that are easily available including climbing, hang gliding and water sports.

Many attractions are located in Derbyshire. Visitors have an assortment of museums, galleries, theme parks, and transport collections from which to choose, and craftsmen can be seen at work at one of the many crafts centers.

Ashbourne, Wirksworth, Matlock and Bakewell are the four most popular towns of Derbyshire. Ashbourne contains some of the most attractive market towns in the area. St. Oswald, one of the most handsome parish churches in England, is located here and is primarily known for its eighteenth century white marble sculpture of Penelope Booth by Thomas Banks. The caves at Wirksworth and Matlock were originally lead mines worked by the Romans.