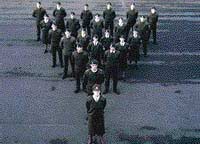 Sandhurst is a parish town situated in Berkshire, England, just 9 miles north of the military camp of Aldershot. This town is well-known for the excellence of the Royal Military Academy. Most of the officers enrolled in the British army go through a course in military education as students at the academy, commonly called Sandhurst.
Many cadets join this academy at the age of 18 1/2-19 ½, after the completion of an aggressive entrance examination along with a brief period of physical training. Other candidates come from Worksop, Nottinghamshire, and Welbeck College. Towards the end of the course, ranks are allotted according to vacant positions. Two very well-known historical figures were trained at this academy, including Prime Minister Winston Churchill and General Bernard Law Montgomery.
Therefore, Sandhurst is a town of both historical and military value. If you enjoy visiting military bases or are interested in pursuing a career with the army, Sandhurst is definitely a place to visit during your stay in the United Kingdom.