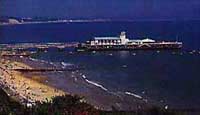 A popular seaside resort, Bournemouth caters to all types of visitors. The sea front is covered with large villas and hotels while many shops, amusement parks, nightclubs and casinos can be found in the city.

Well-known for its beautiful gardens, Bournemouth is full of many green parks and flowerbeds such as the Compton Acres and the Pavilion Rock Garden. It is a truly magnificent place to visit in the springtime.

The Russell-Cotes Museum and the Bournemouth Exhibition Center are the two notable museums in the town. The Russell-Cotes Museum contains magnificent displays of butterflies and moths, porcelain and oriental art, as well as period rooms. Sir Merton Russell-Cotes, a former Lord Mayor, had given the large collection of Japanese art to the museum. The Bournemouth Exhibition Center houses a huge dinosaur safari display.

Just north east of Bournemouth is the small town of Knoll Gardens. Six acres of beautiful gardens are here complete with ponds, waterfalls, streams and thousands of exotic plants collected from all over the world.