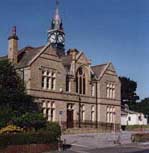 Originally, Rothwell used to be a village south east of Leeds in West Yorkshire, England. Over the years, it has become a small town with the population of approximately 20,000 people.
The Rothwell Temperance Band are a highly successful Brass Band. They were 1998 Champions of Yorkshire in the first section, and won the award consecutively in 1994,1995 and 1996. The Band has a full calendar of concerts and competitions, so be sure to listen to then during your stay in town.
Rothwell is very lively every Saturday in the month of July with the event of the Rothwell Carnival. This occasion unites local residents, tourists, and organizations to help create a fun day out for the entire family. Children can play games, go on the rides, and eat cotton candy and popcorn as you browse around. The carnival parade is typically led by Rothwell Temperance Band, who depart from Wood Lane at 1pm and arrive at Springhead Park at approximately 1.45pm. So, if you are in town during this festivity, be sure to attend and enjoy a day packed with fun-filled entertainment.