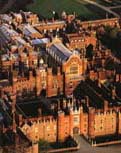 Richmond upon Thames is a striking town that spans through the River Thames and extends its boundry to include Barnes, Kew, Petersham Twickenham, Teddington, Richmond, Ham, Whitton, Hampton Wick and Hampton. The town's name, Richmond upon Thames is misleading; in reality Richmond is just one of multiple towns and villages that comprise the borough. Each has a unique range of social and recreational facilities, exquisite dining, and endless shopping streets that have retained their historic atmosphere.
This area is home to the an old deer park, named the Botanical Gardens at Kew, and multiple ancient structures including the Hampton Court Palace and the Georgian Terraces on Richmond Green. The Hampton Court Palace is located on the banks of the River Thames, and has remained intact for almost 500 year. This structure covers six acres of land, and accommodates the marvelous buildings and gardens, including the well-known Georgian Rooms, the King's Apartments, and the world famous maze, Henry. While you are in this area, make a pit stop at the Ham House. The Ham House was constructed in 1610, and later enlarged in the 1670s. This structure is known for its extravagant interior and collections of decorative furniture, artwork and formal gardens. Another place of interest is Garrick's Temple to Shakespeare.. Garrick, who was an actor in the 1700s decided to create a beautiful garden building on the Thames, near the Hampton Court Palace as a dedication to Shakespeare.
Fine art and entertainment has been thriving for centuries, with Richmond now the home of numerous theatres, a film studio and multiple art galleries as well. This region is never dull, as residents frequently organize fairs, carnivals, and other community activities.
For those individuals interested in athletic events, sports are very well catered for in this borough. It is quite difficult to imaging any other London Borough where you can watch a game of baseball, rugby cricket, and polo, within a weekend. It surely offers very well maintained sports centers, clubs, pleasant recreation grounds and swimming pools.