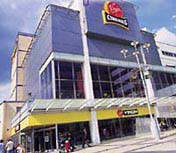 Slough is situated in the county of Berkshire, England, around the Greater London metropolitan area. The town began to attract people when the Slough Station was opened in 1840. By 1841, the population of Slough had almost doubled what it had been in 1831, and the size of the town had grown to almost 7,700. Later, in the early 1900s, the Trading Estate began to form, and once again, families began arriving in Slough from various regions of the country in search of employment opportunities. Therefore, Slough's job prospects and pleasant location have stimulated people to settle in the town. Today, the population of the town has grown to accommodate almost 108,000 people. As well as being a focal center for communications and modern day technology, Slough is a wonderful place to visit.
The history and remarkable heritage of Slough can be discovered at the Slough Museum, which displays their exhibitions to visitors who enter the doors. You can also visit the St. Laurence's Church in Upton, a building that is approximately 900 years old. Though parts of the Court were built in 1325, St Mary's Church in Langley was likely to be built in the late 11th or early 12th century. Since this time period, the structure has been rebuilt and enlarged multiple times.
Slough is an ethnically diverse town, and one of the main shopping and leisure centers within Berkshire. Through the years, it has grown to incorporate a large shopping center that opened in 1976. The town center accommodates two large shopping centers, the Queensmere and the Observatory, along with numerous other shopping areas and several parking facilities situated throughout the borough. Slough is not just a place to go shopping. Instead, it is home to some of the best sporting and recreation facilities in the county, including a multi-sports center, indoor tennis courts and over 500 acres of parkland.